EPISODE SUMMARY
Join scientist and mindset & high-performance coach Claudia Garbutt and author & improvement consultant Mark Graban, as the talk about the mistakes that make us and how to use Lean principles to build a successful business.
In this episode, we talk about:
– Embracing mistakes as learning opportunities
– How to cultivate a company culture that fosters open dialogue & innovation
– How to use Lean startup principles to build a successful business
EPISODE NOTES
Mark Graban is an author, speaker, and consultant, whose latest book, The Mistakes That Make Us: Cultivating a Culture of Learning and Innovation, is available now.
He is also the author of the award-winning book Lean Hospitals: Improving Quality, Patient Safety, and Employee Engagement and others, including Measures of Success: React Less, Lead Better, Improve More.
He serves as a consultant through his company, Constancy, Inc, and is also a Senior Advisor for the technology company KaiNexus. Mark hosts podcasts, including "Lean Blog Interviews" and "My Favorite Mistake."
Education: B.S. in Industrial Engineering from Northwestern University; M.S. in Mechanical Engineering, and M.B.A. from the Massachusetts Institute of Technology's Leaders for Global Operations Program.
Links:
Free chapter: https://www.mistakesbook.com/chapter/
https://www.linkedin.com/in/mgraban
https://www.instagram.com/mgraban
https://facebook.com/mark.graban
https://www.youtube.com/mgraban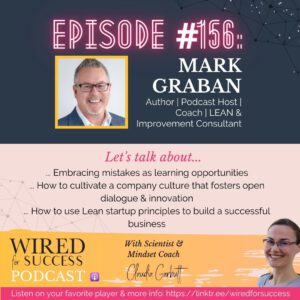 To listen to the full episode on your favorite podcast player, find all links here:
https://linktr.ee/wiredforsuccess
Help me keep this show ad-free and awesome: Hit subscribe and join the tribe! THANK YOU for your support! 🙂
https://podcasters.spotify.com/pod/show/wiredforsuccess/subscribe
And don't forget to click the "Rate this podcast" button below to leave a review & rating. This is the easiest way to support the show & I really appreciate it. THANK YOU! 🙂
And if you're interested in working with me, you can book a free 20min strategy session to figure out what your current success blockers are and how I can best help you.
Looking for great podcast guests for your own show or great shows to guest on?
Try PodMatch, the platform that automatically matches ideal podcast hosts and guests for interviews. Like Tinder for podcasters.
Or Guestio, the app that helps content creators interview high-level guests. Gives you access to those busy, hard-to-reach, next-level guests that you want to have on your show.
Recent Posts: