EPISODE SUMMARY
Join scientist and mindset & high-performance coach Claudia Garbutt and business coach Brian Will as they discuss the blueprint for building successful businesses in different industries.
In this episode, we talk about:
– Lessons from building 7 highly successful companies in different industries
– What it takes to become a successful serial entrepreneur
– Best tips for sales & negotiations
EPISODE NOTES
The Dropout: Multi-Millionaire" and "NO… The Psychology of Sales and Negotiations," and a serial entrepreneur with over 35 years of experience. He has created seven highly successful companies across four industries, worth over half a billion dollars at their peak. Today, Brian is a visionary business leader, owning restaurants in Atlanta, an insurance and technology company in Denver, and a real estate business in Georgia and Florida. His expertise in turnaround projects and driving billions in sales make him a sought-after consultant and speaker.
Links:
Website: https://brianwillmedia.com/
Instagram: https://www.instagram.com/thedropoutmm/?igshid=YmMyMTA2M2Y%3D
Linkedin: https://www.linkedin.com/in/brian-will-07823b6/
Youtube: https://www.youtube.com/channel/UCxoxEUCYLFWi90uRiEuW09A
Website: https://brianwillmedia.com/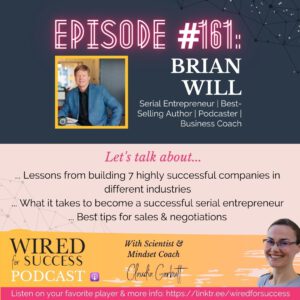 To listen to the full episode on your favorite podcast player, find all links here:
https://linktr.ee/wiredforsuccess
Help me keep this show ad-free and awesome: Hit subscribe and join the tribe! THANK YOU for your support! 🙂
https://podcasters.spotify.com/pod/show/wiredforsuccess/subscribe
And don't forget to click the "Rate this podcast" button below to leave a review & rating. This is the easiest way to support the show & I really appreciate it. THANK YOU! 🙂
And if you're interested in working with me, you can book a free 20min strategy session to figure out what your current success blockers are and how I can best help you.
Looking for great podcast guests for your own show or great shows to guest on?
Try PodMatch, the platform that automatically matches ideal podcast hosts and guests for interviews. Like Tinder for podcasters.
Or Guestio, the app that helps content creators interview high-level guests. Gives you access to those busy, hard-to-reach, next-level guests that you want to have on your show.
Recent Posts: