EPISODE SUMMARY
Join scientist and mindset & high-performance coach Claudia Garbutt and evolutionary psychology & marketing expert Tim Ash as they discuss how to apply research insights to improve the effectiveness of your marketing.
In this episode, we talk about:
– How to sell more effectively using evolutionary psychology & neuromarketing
– The role of AI and machine learning in marketing automation and personalization
– How to optimize conversation rates for your business
EPISODE NOTES
Tim Ash is an acknowledged authority on evolutionary psychology and digital marketing. He is a sought-after international keynote speaker, and the bestselling author of Unleash Your Primal Brain and Landing Page Optimization (with over 50,000 copies sold worldwide, and translated into six languages).
Tim has been mentioned by Forbes as a Top-10 Online Marketing Expert, and by Entrepreneur Magazine as an Online Marketing Influencer To Watch.
Tim is a highly-rated keynote speaker and presenter at over 200 events across four continents. He has been asked to return as a keynote at dozens of events because of the fantastic audience response. Tim shines on massive stages with over 12,000 attendees, as well as in intimate executive events or workshops. He offers dynamic conference keynotes, workshops, and corporate training services (both in-person and virtually).
Tim also selectively works as an online marketing advisor with senior executives.
For nineteen years he was the co-founder and CEO of SiteTuners – a strategic digital optimization agency. Tim has developed deep expertise in user-centered design, persuasion, understanding consumer behavior, neuromarketing, and landing page testing. In the mid-1990s he became one of the early pioneers in the discipline of website conversion rate optimization (CRO).
Tim helped to create over 1.2 billion dollars in value for companies like Google, Expedia, eHarmony, Facebook, American Express, Canon, Nestle, Symantec, Intuit, Humana, Siemens, and Cisco.
He was the founding chair of the international Conversion Conference event series (with over 30 conferences in the US and Europe since 2010). Since 1995, he has authored more than 100 published articles. Tim was also the online voice of website improvement as the host of the Landing Page Optimization Podcast on WebmasterRadio.fm (over 130 recorded interview episodes with top online marketing experts).
Tim earned a dual-major Bachelor of Science degree "with highest distinction" in Computer Engineering and Cognitive Science from U.C. San Diego while studying on a U.C. Regents Scholarship (the highest academic award of the U.C. system). He stayed on at U.C. San Diego for Ph.D. studies focused on machine learning and artificial intelligence. Although Tim never defended his dissertation, he advanced to candidacy and also earned his Master's degree in Computer Science along the way.
Originally born in the Soviet Union, Tim has been a long-time resident of San Diego, where he lives with his wife and two children within walking distance of the Pacific Ocean. Tim was a conference-winning collegiate sabre fencer and Athlete of the Month at U.C. San Diego, and is a certified Tai Chi Chuan martial arts instructor. He is a poet, painter, and avid photographer specializing in travel and fine-art figurative work.
Links:
Website: PrimalBrain.com
LinkedIn: https://www.linkedin.com/in/timash/
Facebook: https://www.facebook.com/tim.ash1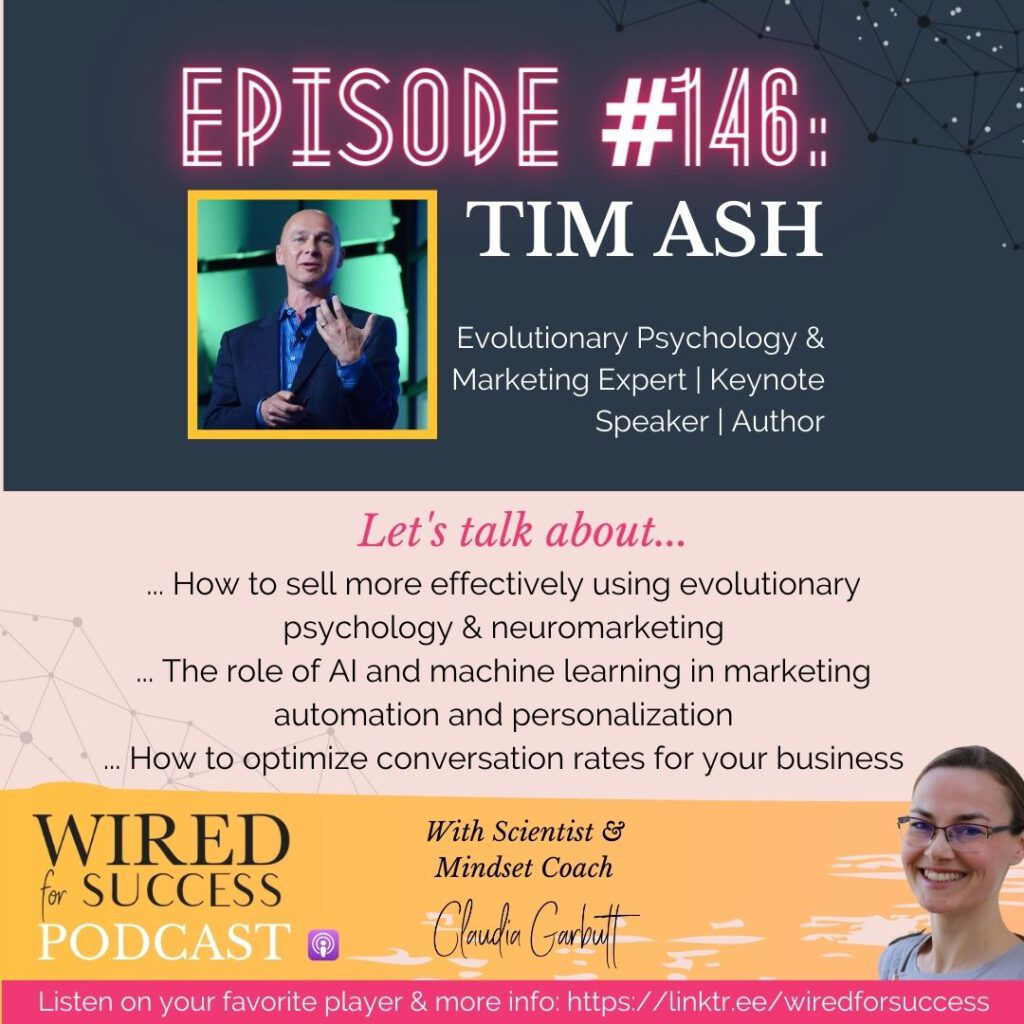 To listen to the episode on your favorite podcast player, find all links here:
https://linktr.ee/wiredforsuccess
Want more? From quick tips & insights to guided meditations and a side of biohacking – if you'd like to join my inner circle and get access to exclusive subscriber-only content: Hit subscribe and join the tribe! THANK YOU for your support! 🙂
https://podcasters.spotify.com/pod/show/wiredforsuccess/subscribe
And don't forget to click the "Rate this podcast" button below to leave a review & rating. This is the easiest way to support the show & I really appreciate it. THANK YOU! 🙂
And if you're interested in working with me, you can book a free 20min strategy session to figure out what your current success blockers are and how I can best help you.
Looking for great podcast guests for your own show or great shows to guest on?
Try PodMatch, the platform that automatically matches ideal podcast hosts and guests for interviews. Like Tinder for podcasters.
Or Guestio, the app that helps content creators interview high-level guests. Gives you access to those busy, hard-to-reach, next-level guests that you want to have on your show.
Recent Posts: