EPISODE SUMMARY
Join scientist and mindset & high-performance coach Claudia Garbutt and multi-million dollar real estate investor & wealth educator Rennie Gabriel as they discuss wealth on any income.
In this episode we talk about:
– Going from being broke to becoming
a multi-millionaire
– The 3 secrets of the wealthy
– Good investments vs bad investments to create financial abundance
EPISODE NOTES
Currently, a real estate investor, wealth educator, and philanthropist, Rennie Gabriel went from being broke at age 50 to becoming a multi-millionaire after learning the secrets of the wealthy.
Rennie's philosophy is that when we take care of ourselves financially, then we can build wealth with a purpose–and when we do, we can give back to help those who are suffering, and create a better, more transformative, thriving world.
Website:
https://www.WealthOnAnyIncome.com
LinkedIn:
https://www.linkedin.com/in/renniegabriel
Facebook:
https://www.facebook.com/WealthOnAnyIncome
Twitter:
YouTube:
https://www.youtube.com/results?search_query=rennie+gabriel
Instagram:
https://www.instagram.com/wealthonanyincome
Podcast:
https://www.WealthOnAnyIncome.com
Freebie: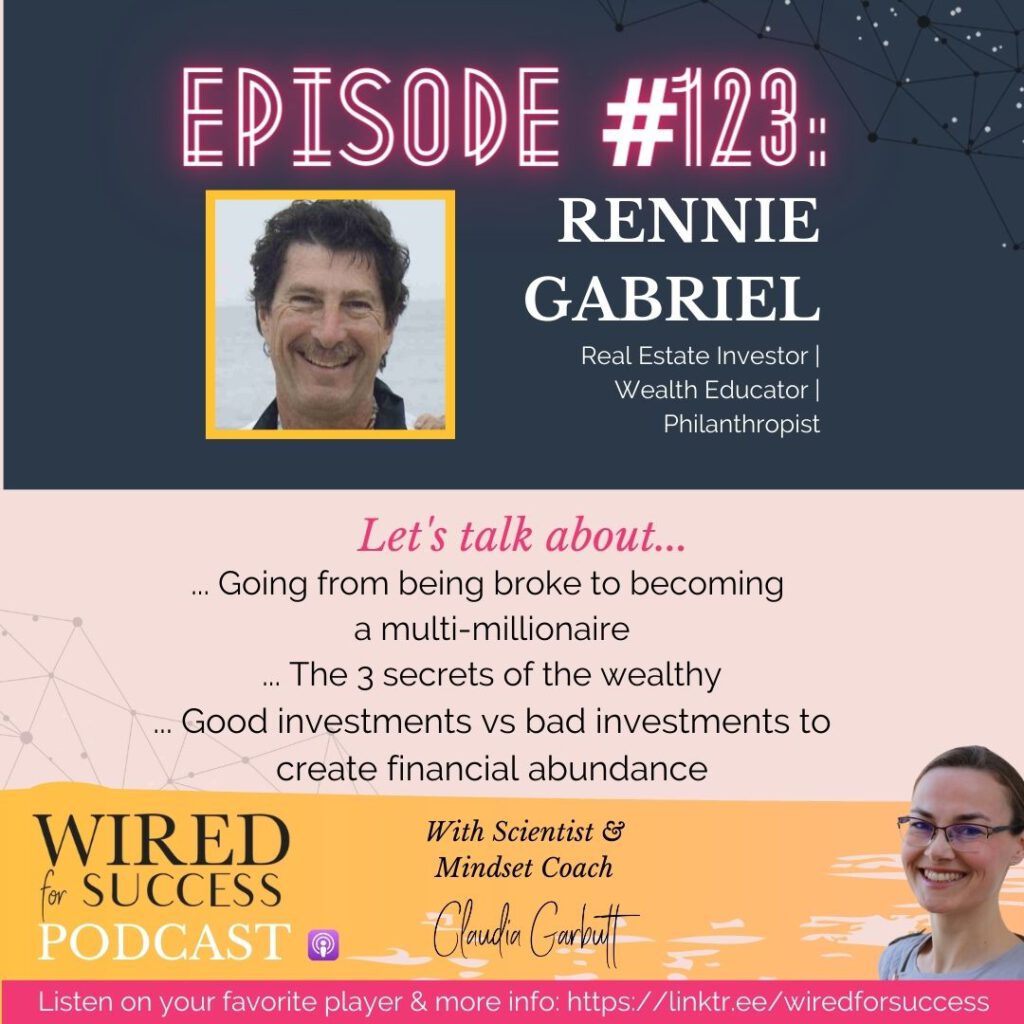 To listen to the episode on your favorite podcast player, find all links here:
https://linktr.ee/wiredforsuccess
If you enjoyed this episode, learned something new, had an epiphany moment – or were reminded about a simple truth that you had forgotten, please click the "Rate this podcast" button below and leave a review & rating. This is the easiest way to support the show & I really appreciate it.
Become a supporter of the show:
https://glow.fm/wiredforsuccesspodcast/
And if you're interested in working with me, you can book a free 20min strategy session to figure out what your current success blockers are and how I can best help you.
Looking for great podcast guests for your own show or great shows to guest on?
Try PodMatch, the platform that automatically matches ideal podcast hosts and guests for interviews. Like Tinder for podcasters.
Or Guestio, the app that helps content creators interview high-level guests. Gives you access to those busy, hard-to-reach, next-level guests that you want to have on your show.
Recent Posts: