EPISODE SUMMARY
Join scientist and mindset & high-performance coach Claudia Garbutt and visual storytellers Deevo Tindall and Lisa Staff as they discuss creating & running a soul-aligned business, visual storytelling & adding value.
In this episode we talk about:
– Alignment, vision, & team-building
– Prioritising key objectives vs pursuing an elusive "work-life-balance"
– Breaking default patterns & defining your superpower
EPISODE NOTES
Deevo's current company, Fusion Photography, is an international photo, video, and content creation studio, based in Charlotte, North Carolina, and is consistently recognized as one of the top photography studios in the south.
Prior to Fusion, Deevo started, scaled, and then sold the largest adult social company in the Carolinas. Running concurrently to his entrepreneurial life, he worked for a Fortune 50 company for over 20 years as the Senior Project Director managing multi-million dollar projects and international business teams.
Deevo is currently the Co-Director of Sprout Connectors, a human-centered digital outreach agency, with offices in Charlotte and Hilton Head, and is the co-anchor of the popular podcast Mind Body Business. He sits on the board for several Non-Profits, participates in a men's amateur soccer league, mountain bikes, trains, and does yoga daily.
He has contributed commentary and bylines to Photography Magazine, The Knot, and Wedding Wire, as well as a contributing author for various industry blogs and insider resources.
You can learn more here:
Websites:
www.fusionphotographystudio.com
Instagram:
https://www.instagram.com/fusionphotog/
https://www.instagram.com/lisastaffphoto/
Facebook:
https://www.facebook.com/deevot
https://www.facebook.com/lisa.staff.507
LinkedIn:
https://www.linkedin.com/in/fusionphotog/
YouTube:
https://www.youtube.com/channel/UCn4C58U6MRnBaJP8NOknYHg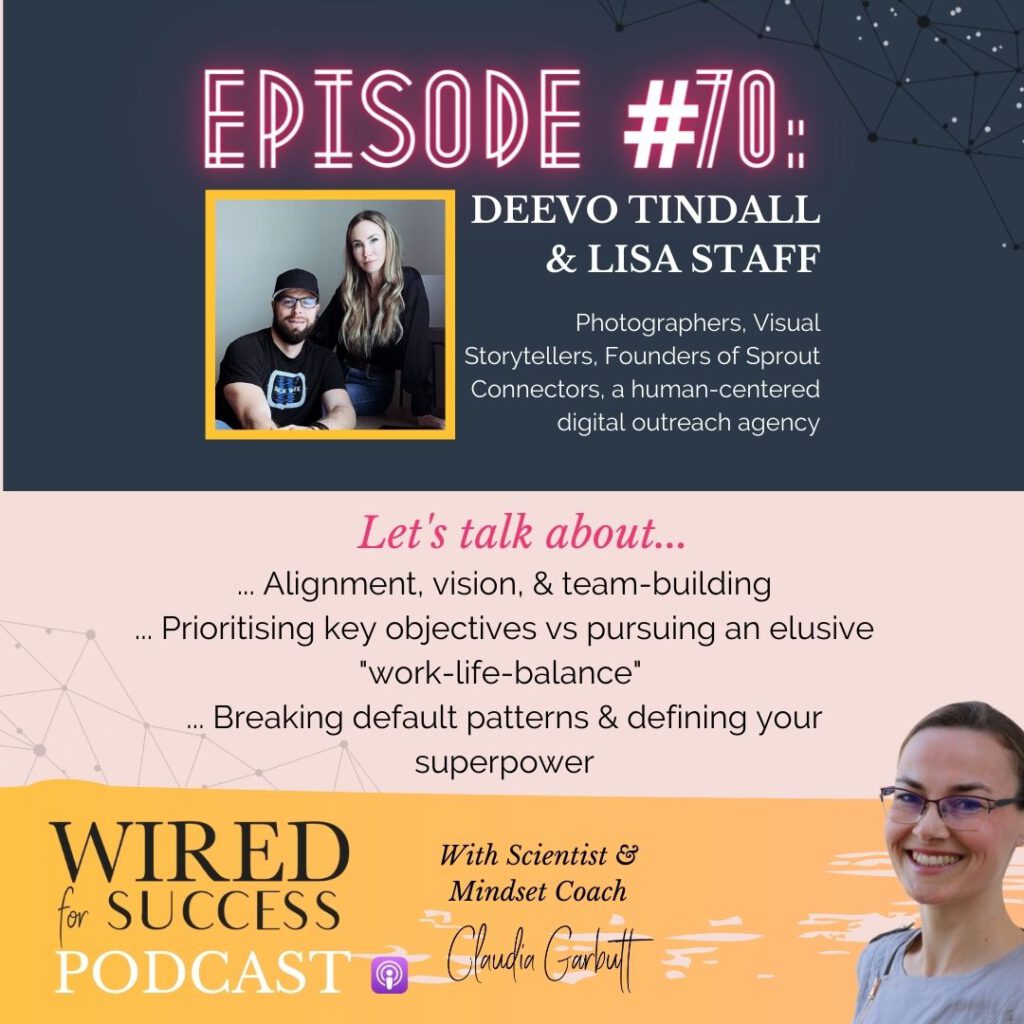 If you enjoyed this episode, learned something new, had an epiphany moment – or were reminded about a simple truth that you had forgotten, please click the "Rate this podcast" button below and leave a review & rating. This is the easiest way to support the show & I really appreciate it.
Oh, and make sure you subscribe to the podcast so you don't miss out on any of the amazing future episodes!
And if you're interested in working with me, you can book a free 20min strategy session to figure out what your current success blockers are and how I can best help you.
Are you a high-ticket coach or other service-based entrepreneur who wants to launch their own Top10 podcast to increase their authority, credibility & visibility AND to bring in new high-quality leads on autopilot but don't know how to get started? No worries, I've got you covered! 🙂
Download my "Instant Podcast Monetization Guide For High-Ticket Coaches and Service-Based Entrepreneurs".
Recent posts: