EPISODE SUMMARY
Join scientist and mindset & high-performance coach Claudia Garbutt and marketing & sales expert Jon Tsourakis as they talk about sales mindset, how to sell without being salesy, how to improve your sales conversations & conversions – and so much more!
In this episode you'll learn about:
– Betting on yourself & sustainable growth
– Early phase challenges vs later phase challenges of growing your business
– Sales mindset & overcoming blocks and objections in your sales conversations
EPISODE NOTES
Jon Tsourakis is a serial entrepreneur, seasoned leader, and strategist.
He's an expert in brand identity, business communications, buyer behavior, sales conversions, marketing systems, product/service design, and digital marketing.
In 2019, he merged his agency and became co-owner of Oyova. As President and Chief Revenue Officer, he is responsible for the sales and growth of the company.
You can find him here:
LinkedIn: https://www.linkedin.com/in/jontsourakis/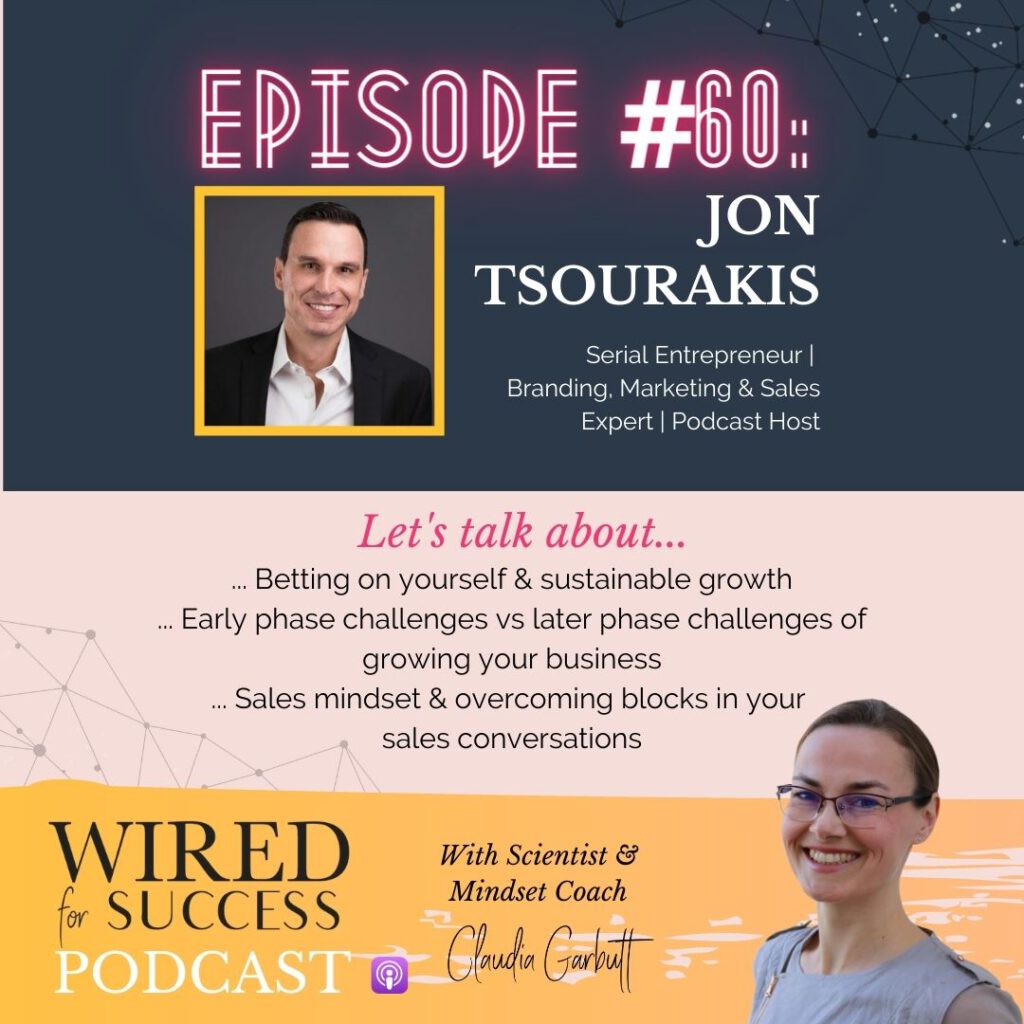 —————-
If you enjoyed this episode, learned something new, had an epiphany moment – or were reminded about a simple truth that you had forgotten, please let me know by leaving a review and a comment!
I'm always open to suggestions – maybe you have a specific topic in mind that you would love to learn more about or you know someone who would be a fantastic guest for this show – leave a comment and let me know!
Oh, and make sure you subscribe to the podcast so you don't miss out on any of the amazing future episodes!
If you'd like to connect more, you can find me here:
Website: www.wiredforsuccess.solutions
Instagram: https://www.instagram.com/wired_for_success/
Facebook: https://www.facebook.com/claudia.garbutt.1
LinkedIn: https://www.linkedin.com/in/claudia-garbutt/
HELPFUL RESOURCES
Get my FREE "Prime Your Brain for Success in Less Than 5 min Each Day" audio file that is specifically designed for ambitious, mission-driven entrepreneurs who want to start their day more focused, inspired & energized!
Wanna find out how I can help you leverage the power of your mind and tap into the wisdom of your body to feel fully aligned, trust your intuition, and achieve your goals with ease and joy rather than with constant hustle and pushing yourself to the point of exhaustion – book a free 20min Strategy Session with me: https://bit.ly/2YemfIe
Are you too busy to enjoy your life and would like to free up more time to do all the things you love? Check out my "5 Days to Getting Your Life Back" productivity course that teaches ambitious, mission-driven entrepreneurs how to win back 1-2h of precious time each day
And if you're interested in working with me, you can book a free 20min strategy session to figure out what your current success blockers are and how I can best help you.
---
Recent posts: