EPISODE SUMMARY
Join scientist and mindset & high-performance coach Claudia Garbutt and science researcher and writer Jeremy Sherman PhD as they explore the mysteries of consciousness, language & the human experience.
In this episode you'll learn about:
– The hard problem of consciousness
– Meditation, psychedelics & higher states of consciousness
– The role of language for experiencing your subjective reality
EPISODE NOTES
Jeremy Sherman, PhD is a cradle-to-grave science researcher and writer studying the unbroken chain from the origins of life from chemistry to humankind's grave situation today.
He's the author of the Columbia University Press book Neither Ghost Nor Machine: The emergence and nature of selves but also 1000 articles with 9 million readers for Psychology Today on everyday practicalities, including how to deal with Total Jerks.
For 25 years, he has been a close research collaborator with Harvard/Berkeley neuroscientist Terrence Deacon.
His latest book is called "What's up with Assholes? Advanced psychoproctology for beginners. Sherman's all about making advanced ideas intuitive, practical, and funny, because from a natural science perspective because the human condition is pretty ironic.
You can find him here:
Latest book
https://psychoproctology.libsyn.com/website
Website
LinkedIn
https://www.linkedin.com/in/jeremyshermanphd/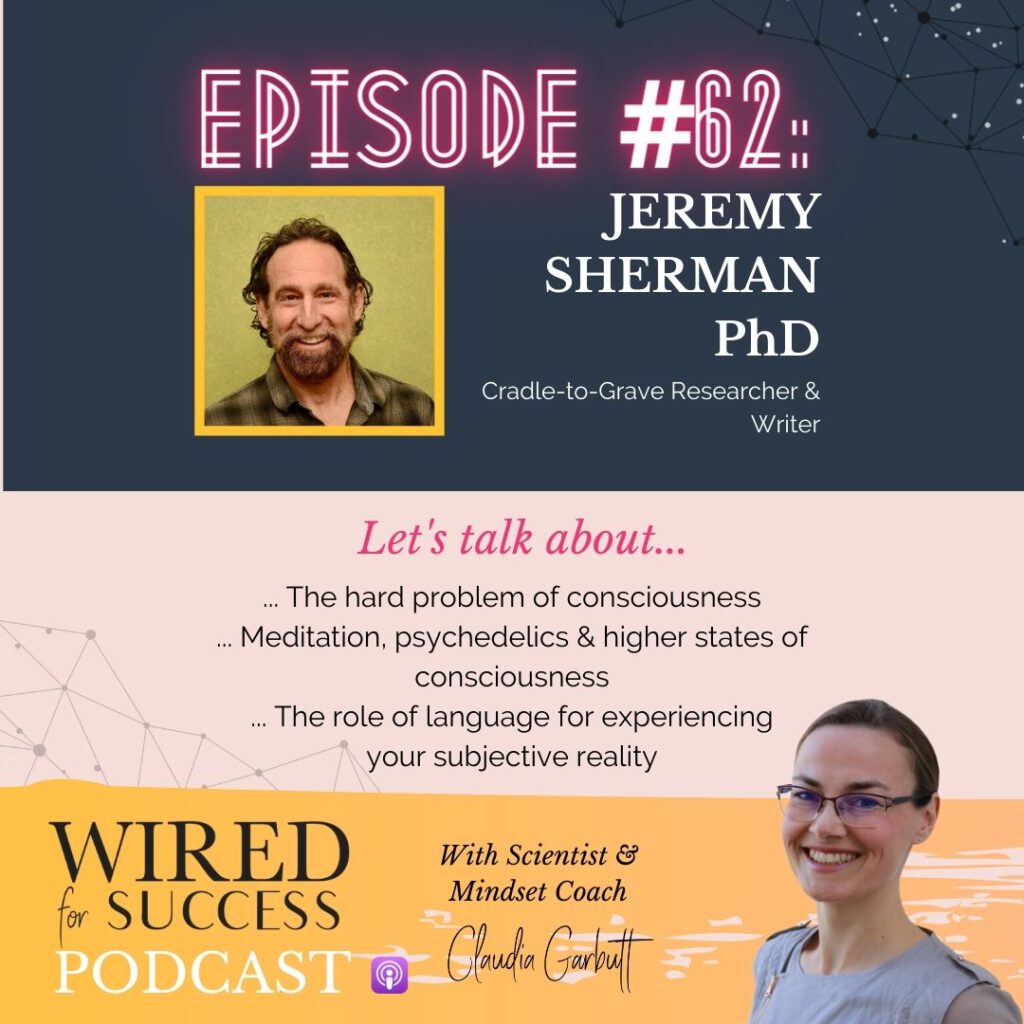 —————-
If you enjoyed this episode, learned something new, had an epiphany moment – or were reminded about a simple truth that you had forgotten, please let me know by leaving a review and a comment!
I'm always open to suggestions – maybe you have a specific topic in mind that you would love to learn more about or you know someone who would be a fantastic guest for this show – leave a comment and let me know!
Oh, and make sure you subscribe to the podcast so you don't miss out on any of the amazing future episodes!
If you'd like to connect more, you can find me here:
Website: www.wiredforsuccess.solutions
Instagram: https://www.instagram.com/wired_for_success/
Facebook: https://www.facebook.com/claudia.garbutt.1
LinkedIn: https://www.linkedin.com/in/claudia-garbutt/
HELPFUL RESOURCES
Worried you might be headed for burnout? Take my quiz to identify common warning signs and assess your current burnout risk:
Wanna find out how I can help you leverage the power of your mind and tap into the wisdom of your body to feel fully aligned, trust your intuition, and achieve your goals with ease and joy rather than with constant hustle and pushing yourself to the point of exhaustion – book a free 20min Strategy Session with me: https://bit.ly/2YemfIe
Are you too busy to enjoy your life and would like to free up more time to do all the things you love? Check out my "5 Days to Getting Your Life Back" productivity course that teaches ambitious, mission-driven entrepreneurs how to win back 1-2h of precious time each day
And if you're interested in working with me, you can book a free 20min strategy session to figure out what your current success blockers are and how I can best help you.
---
Recent posts: