EPISODE SUMMARY
Join scientist and mindset & high-performance coach Claudia Garbutt and executive coach & leadership educator Jennifer Thornton as they talk about leveraging neuroscience to grow & scale your business with joy.
In this episode we talk about:
… How to put yourself out there & let go of your fears
… How to scale your business with joy & ease
… How to deal with uncertainty & move forward with confidence
EPISODE NOTES
Jennifer has developed her expertise in Talent Strategy & Leadership Professional Development over her exciting 20+ year career as an HR Professional.
She's led international teams across Greater China, Mexico, the U.K., and the U.S. to expand into new markets, managing franchise retailers, and developing key strategic partnerships – all while exceeding business objectives and financial results.
The rapid growth of her consulting firm 304 Coaching has been largely due to Jennifer's unconventional approach to building innovative workforce development solutions for companies that are facing breakthrough growth and accelerated hiring patterns.
She is a sought-after business strategist, specializing in start-ups and large value-based organizations. She assists her clients in building talent strategies that complement their business strategies to ensure exponential growth.
You can learn more here:
Website:
LinkedIn:
https://www.linkedin.com/in/jenniferrthornton/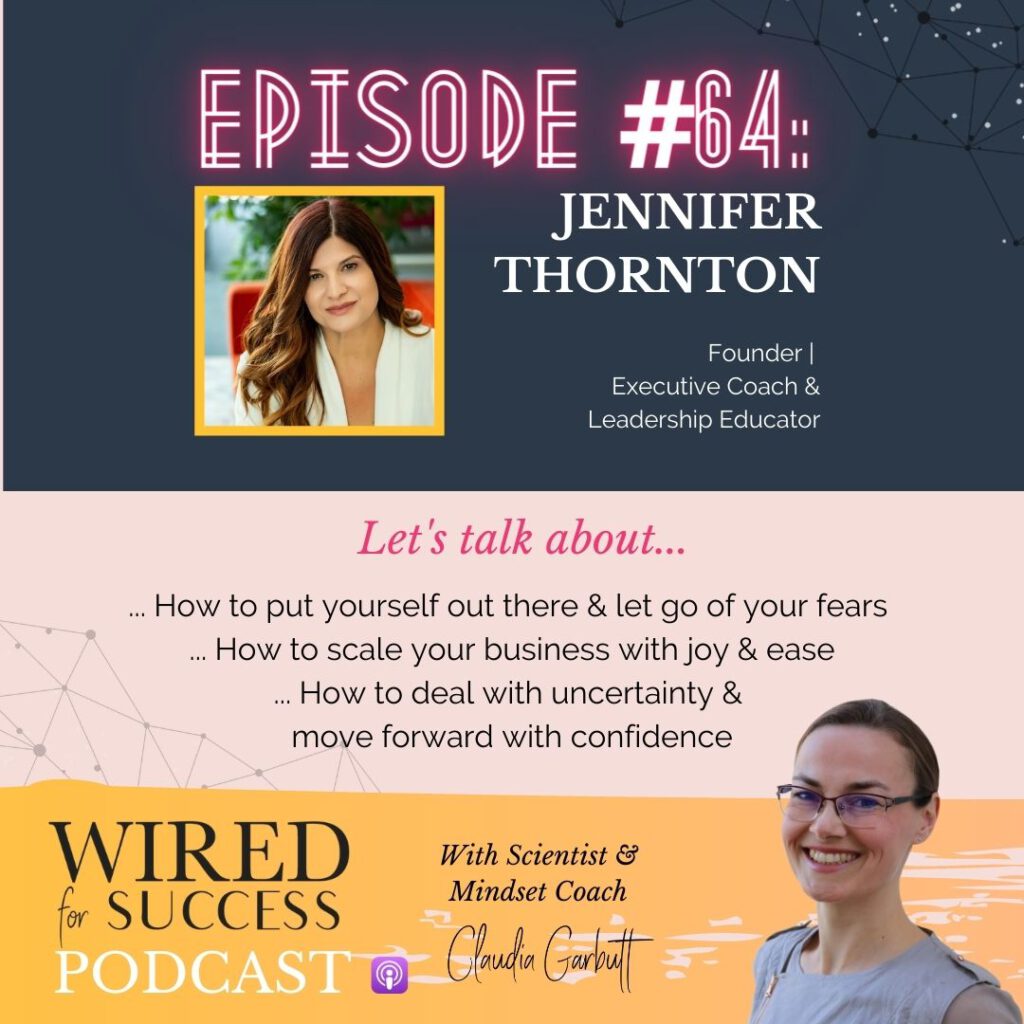 ---
Or listen on:

If you enjoyed this episode, learned something new, had an epiphany moment – or were reminded about a simple truth that you had forgotten, please click the "Rate this podcast" button below and leave a review & rating. This is the easiest way to support the show & I really appreciate it.


Oh, and make sure you subscribe to the podcast so you don't miss out on any of the amazing future episodes!

If you'd like to connect more, you can find me here:
Website: www.wiredforsuccess.solutions
Instagram: https://www.instagram.com/wired_for_success/
Facebook: https://www.facebook.com/claudia.garbutt.1
LinkedIn: https://www.linkedin.com/in/claudia-garbutt/

HELPFUL RESOURCES
Worried you might be headed for burnout? Take my quiz to identify common warning signs and assess your current burnout risk:


Wanna find out how I can help you leverage the power of your mind and tap into the wisdom of your body to feel fully aligned, trust your intuition, and achieve your goals with ease and joy rather than with constant hustle and pushing yourself to the point of exhaustion – book a free 20min Strategy Session with me: https://bit.ly/2YemfIe
Are you too busy to enjoy your life and would like to free up more time to do all the things you love? Check out my "5 Days to Getting Your Life Back" productivity course that teaches ambitious, mission-driven entrepreneurs how to win back 1-2h of precious time each day


And if you're interested in working with me, you can book a free 20min strategy session to figure out what your current success blockers are and how I can best help you.
---

Recent posts: