EPISODE SUMMARY
To live a happy & fulfilling life, it's not enough to only manage external aspects of your life like your business, your money, or your properties – you have to manage ALL aspects of your life.
In this episode you'll learn about:
– Managing external and internal factors
– Intentional living: Creating a life by design
– How to become a good manager of your life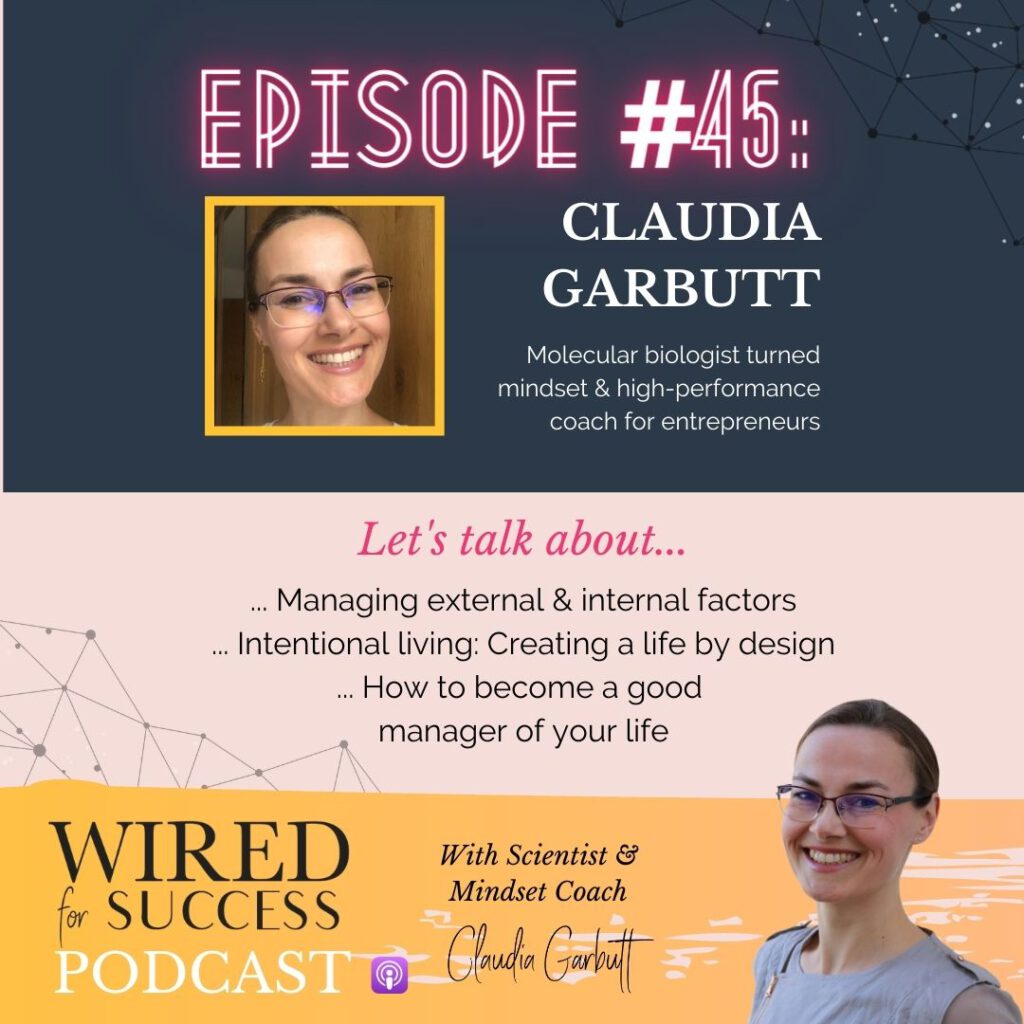 If you enjoyed this episode, learned something new, had an epiphany moment – or were reminded about a simple truth that you had forgotten, please let me know by leaving a review and a comment!
I'm always open to suggestions – maybe you have a specific topic in mind that you would love to learn more about or you know someone who would be a fantastic guest for this show – leave a comment and let me know!
Oh, and make sure you subscribe to the podcast so you don't miss out on any of the amazing future episodes! You can subscribe here: https://podcasts.apple.com/de/podcast/wired-for-success-podcast/id1523287703
Work with me
And if you're interested in working with me, you can book a free 20min strategy session to discuss how I can best help you.
Recent posts:
Building Blinkist with Holger Seim | Episode #155

EPISODE SUMMARY Join scientist and mindset & high-performance coach Claudia Garbutt and co-founder of Blinkist Holger Seim as they talk about what it took to build Blinkist into a 9-figure business. In this episode, we talk about: – Lessons from building a 9-figure SaaS company – What's happening behind the scenes of Blinkist – Effective …

Read more

Actionable Tips for Optimizing Your Life & Business with David Heinemeier Hanson | Episode #154

EPISODE SUMMARY Join scientist and mindset & high-performance coach Claudia Garbutt and serial entrepreneur David Heinemeier Hanson, as they discuss optimizing your life and business. In this episode, we talk about: – How to optimize for the RIGHT things – Escaping the perfectionism trap – How to motivate yourself & your team – Deciding which …

Read more