EPISODE SUMMARY
Join scientist and mindset & high-performance coach Claudia Garbutt and # 1relationship coach Dr. Michelle R. Hannah as they talk about owning your genius, staying true to yourself and relationship dynamics.
In this episode we talk about:
– Why you need to heal emotional trauma
– The 5 people everyone needs to have in their life
– The importance of authenticity for building strong relationships
EPISODE NOTES
Dr. Michelle R. Hannah, through her life's medical challenges and overwhelming love for humanity, the health, emotional well-being of people, and commitment to living authentically – is among the most influential women today.
Dr. Michelle's public speaking spans over 15 years and is the author of The Breaking Point: A Full-Circle Journey and workbook, The Vows A guide to Understanding your marriage and understanding yourself and her most recent book- The Self Vows; Seven Vows That Will Charge Your Life.
Michelle has made several appearances on TV, Radio, Podcasts, and has collaborated with and featured in many blogs. She has recently been featured in articles for CBS, FOX, NBC & was voted #1 Relationship Coach of the year..
The self Vows retreat:
https://www.theselfvows.com/copy-of-our-services
Or to enroll in the Self Vows program:
https://www.theselfvows.com/plans-pricing
Website:
https://www.michellerhannah.com/
Instagram:
https://www.instagram.com/michelle_r_hannah/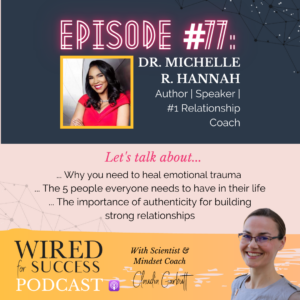 ---
Prefer to READ the interview? You can find a transcript here.
If you enjoyed this episode, learned something new, had an epiphany moment – or were reminded about a simple truth that you had forgotten, please click the "Rate this podcast" button below and leave a review & rating. This is the easiest way to support the show & I really appreciate it.
And if you're interested in working with me, you can book a free 20min strategy session to figure out what your current success blockers are and how I can best help you.
Are you a high-ticket coach or other service-based entrepreneur who wants to launch their own Top10 podcast to increase their authority, credibility & visibility AND to bring in new high-quality leads on autopilot but don't know how to get started? No worries, I've got you covered! 🙂
Download my "Instant Podcast Monetization Guide For High-Ticket Coaches and Service-Based Entrepreneurs".
Other helpful resources:
Looking for great podcast guests for your own show or great shows to guest on? Try PodMatch, the platform that automatically matches ideal podcast hosts and guests for interviews.
Recent posts: