EPISODE SUMMARY
Join scientist and mindset & high-performance coach Claudia Garbutt and coach & speaker Dre Baldwin as they talk about the parallels between professional sports and business.
In this episode, we talk about:
– Coaching & being coachable
– High-performance habits for sustainable success
– Discipline, confidence, mental toughness & personal initiative
EPISODE NOTES
As CEO and Founder of Work On Your Game Inc., Dre Baldwin has given 4 TEDxTalks on Discipline, Confidence, Mental Toughness & Personal Initiative and has authored 33 books.
He has appeared in national campaigns with Nike, Finish Line, Wendy's, Gatorade, Buick, Wilson Sports, STASH Investments and DIME magazine.
Dre has published over 8,000 videos to 141,000+ subscribers, his content being consumed over 100 million times to date.
Dre's daily Work On Your Game Podcast MasterClass has over 2,400 episodes and more than 5 million downloads.
Dre went from the end of his high school team's bench, to the first contract of a 9-year professional basketball career. He has played in 8 countries including Lithuania, Germany, and Montenegro.
Dre invented his Work On Your Game framework to help entrepreneurs build their Mindset, Strategy & Systems.
Links:
Free book, The Third Day 📕: http://ThirdDayBook.com
Work On Your Game University: http://www.WorkOnYourGameUniversity.com
FREE training to increase business without working harder: http://www.WorkOnYourGame.net
Dre's text number to get his FREE #DailyMotivation text 📲: 1.305.384.6894
http://LinkedIn.com/in/DreAllDay
http://Facebook.com/WorkOnYourGame
http://Instagram.com/DreBaldwin
http://YouTube.com/Dreupt
http://DreAllDay.com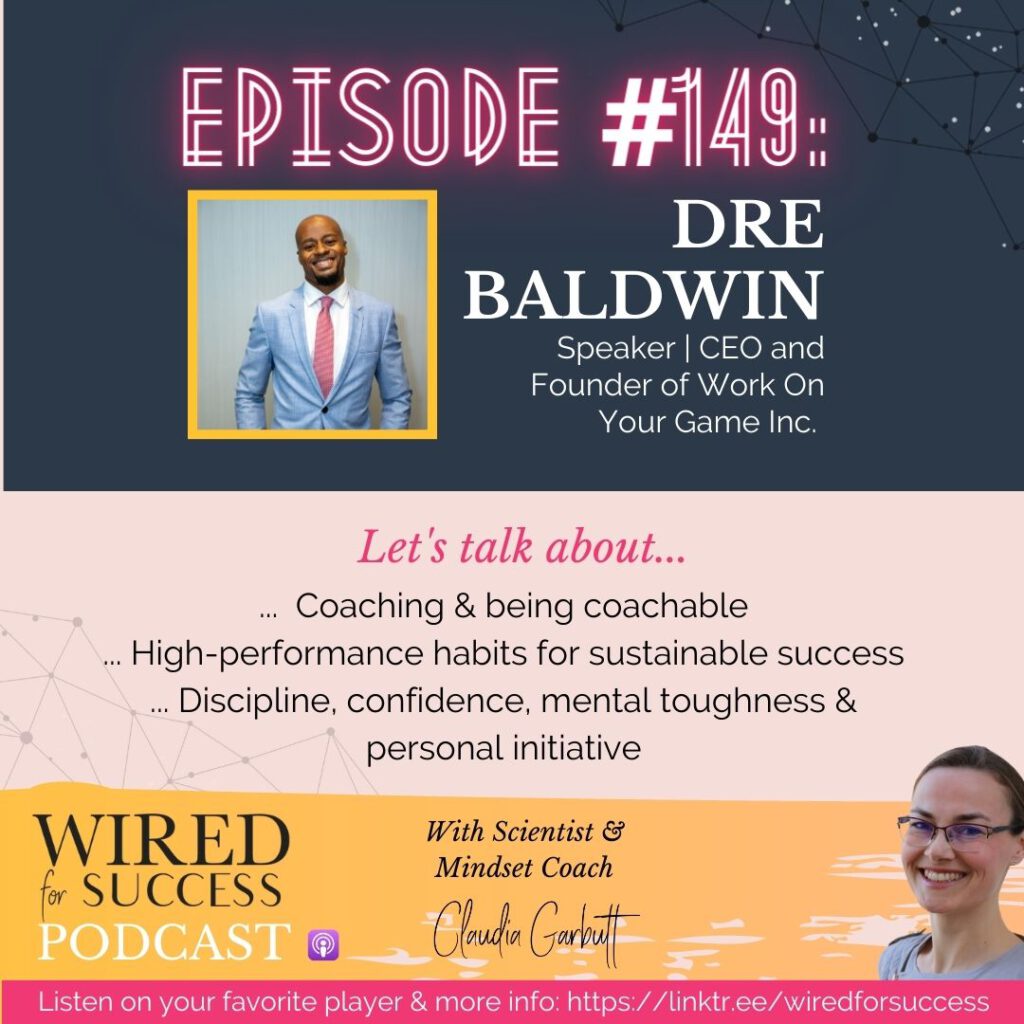 To listen to the episode on your favorite podcast player, find all links here:
https://linktr.ee/wiredforsuccess
Want more? From quick tips & insights to guided meditations and a side of biohacking – if you'd like to join my inner circle and get access to exclusive subscriber-only content: Hit subscribe and join the tribe! THANK YOU for your support! 🙂
https://podcasters.spotify.com/pod/show/wiredforsuccess/subscribe
And don't forget to click the "Rate this podcast" button below to leave a review & rating. This is the easiest way to support the show & I really appreciate it. THANK YOU! 🙂
And if you're interested in working with me, you can book a free 20min strategy session to figure out what your current success blockers are and how I can best help you.
Looking for great podcast guests for your own show or great shows to guest on?
Try PodMatch, the platform that automatically matches ideal podcast hosts and guests for interviews. Like Tinder for podcasters.
Or Guestio, the app that helps content creators interview high-level guests. Gives you access to those busy, hard-to-reach, next-level guests that you want to have on your show.
Recent Posts: