EPISODE SUMMARY
Join scientist and mindset & high-performance coach Claudia Garbutt and Mindvalley co-founder Kristina Mand-Lakhiani as they talk about entrepreneurship and personal development.
In this episode we talk about:
– Sharing uncomfortable truths & embracing your dragons
– The importance of playfulness, fun & "crazy" things
– Perfectionism, ambition & dealing with expectations
EPISODE NOTES
Kristina Mand-Lakhiani is an international speaker, entrepreneur, artist, philanthropist, and mother of 2 kids. As a co-founder of Mindvalley, a leading publisher in the personal growth industry, Kristina dedicated the last 17 years of her career to teachers like Michael Beckwith, Bob Proctor, Lisa Nichols, and many more.
She started her career in a government office in her native Estonia and, by her mid-20s, achieved a level of success mostly known to male politicians at the end of their careers. It was shortly after that Kristina and her husband Vishen founded Mindvalley. From a small meditation business operating out of the couple's apartment in New York, the company quickly grew into a global educational organization offering top training for peak human performance to hundreds of thousands of students all around the world.
Kristina believes life is too important to be taken seriously and makes sure to bring fun into every one of her roles: as a teacher, mother, entrepreneur, philanthropist, and world traveler. Kristina helps her students to virtually hack happiness by taking them through her unique framework – "Hacking happiness" – a unique framework of balancing your life, taking in every moment, and paying close attention to the small daily choices.
Kristina is also the author of three transformational quests – "7 Days To Happiness", "Live By Your Own Rules." and "The Art of Being Flawesome". Kristina talks about personal transformation, authenticity, understanding and accepting oneself, and a path to happiness.
In June 2023 Kristina released her brand new book – "Becoming Flawesome". In her book, Kristina shares her own journey from being on top of a personal growth empire like Mindvalley to stepping aside, conscious uncoupling from her husband, and walking her path towards being more honest with herself.
#BecomingFlawesome
You can find more information about Kristina here: Instagram, LinkedIn, Facebook, and website.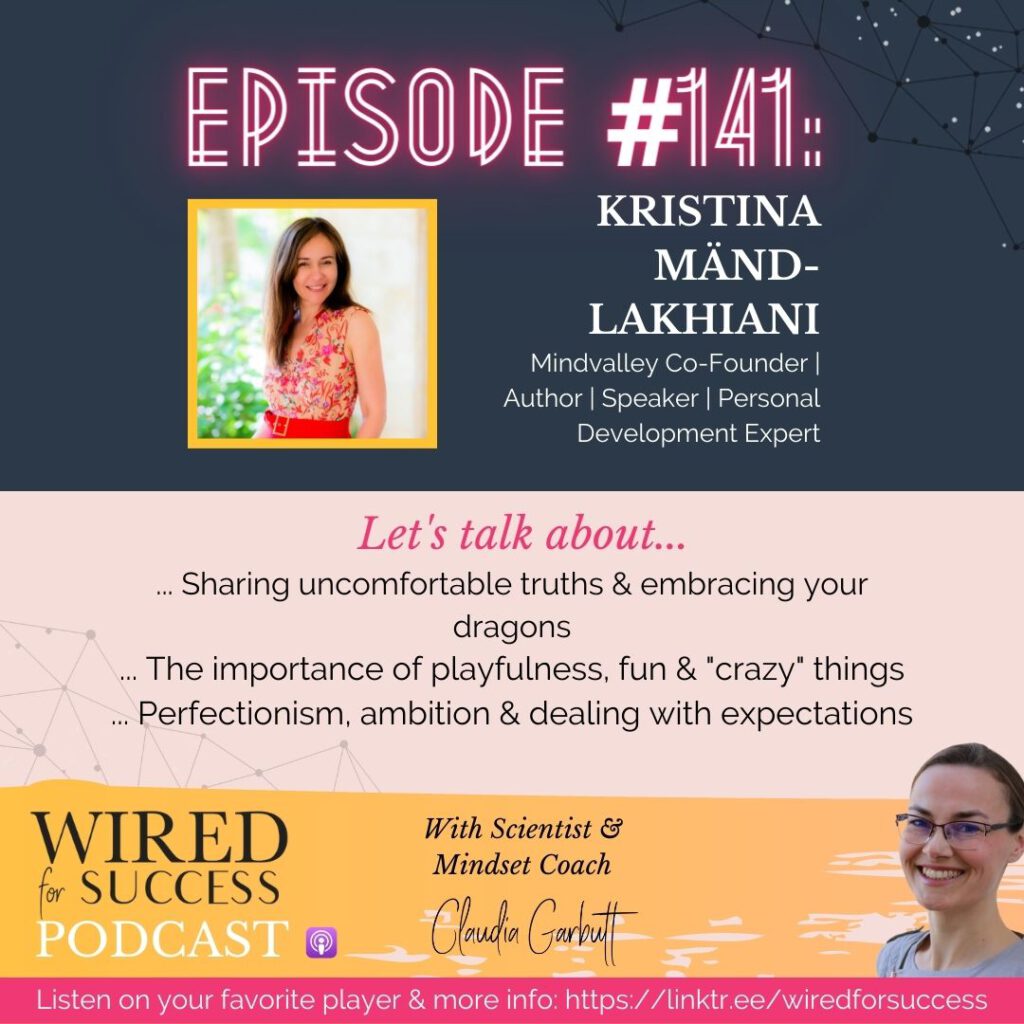 To listen to the episode on your favorite podcast player, find all links here:
https://linktr.ee/wiredforsuccess
Want more? From quick tips & insights to guided meditations and a side of biohacking – if you'd like to join my inner circle and get access to exclusive subscriber-only content: Hit subscribe and join the tribe! THANK YOU for your support! 🙂
https://podcasters.spotify.com/pod/show/wiredforsuccess/subscribe
And don't forget to click the "Rate this podcast" button below to leave a review & rating. This is the easiest way to support the show & I really appreciate it. THANK YOU! 🙂
And if you're interested in working with me, you can book a free 20min strategy session to figure out what your current success blockers are and how I can best help you.
Looking for great podcast guests for your own show or great shows to guest on?
Try PodMatch, the platform that automatically matches ideal podcast hosts and guests for interviews. Like Tinder for podcasters.
Or Guestio, the app that helps content creators interview high-level guests. Gives you access to those busy, hard-to-reach, next-level guests that you want to have on your show.
Recent Posts: